Friday, August 11, 2006
Lindsay Lohan has been the center of numerous stories in the last 24 hours. She has fired back at Paris Hilton, and is even being chased by a deadly stalker. But none of these stories are as important as how good of a job she does sitting down.

When a hot girl is sitting by me with her legs open, I'll pretty much agree to whatever she says. She could tell me to drown babies and I'd just sit their nodding. She could probably convince me to push my grandmother down the stairs, because I'd just be worried about getting my pants off so I could masturbate before she leaves. Obviously, it's better to masurbate to a girl while she's showing off her vagina instead of being forced to remember it later.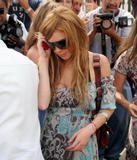 Source