Tuesday, August 29, 2006
Lindsay Lohan has recently been sending sex toys to all of her friends as gifts. She has even sent a number of these items to Kate Moss.

A source close to Lohan said: "Lindsay has been making her female friends laugh by sending them sex toys as she wanted to cheer them up.The latest thing she sent out was an Ann Summers sex toy called the Deluxe Rampant Rabbit. As well as 12 pairs of sexy black thongs, some massage oil and edible underwear she has ordered 12 of the Deluxe Rabbits off the internet."

A kinky sex panther, like myself, uses all kinds of toys in the bedroom, but the best one is my tornado dildo. It is a mold of my penis so the ladies can enjoy me even when I'm out of town. Some say it's to extreme because it draws blood, but I just think they lack imagination.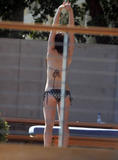 Source