Thursday, July 06, 2006
There isn't a lot hotter than a girl like Jessica Biel wearing bikinis and playing football on the beach. Well, I guess a girl with loose morals who pays me to let her give me head as I drive to the local orphanage to feed the children.

It's a good thing she's at the beach, because she's whiter than a stain of cum on a hooker's mouth. If I were her, I'd take off the rest of my clothes and just tan for a few hours. All I really know is when I go nude sun bathing there's a 98% rise in the female population at the beach.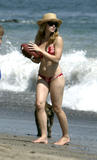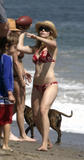 BTW: These pics were taken of Jess over the weekend.